Painless Dentistry in Newark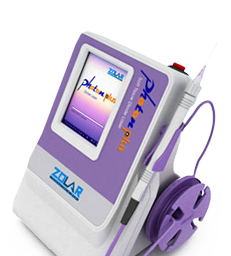 We believe that the combination of laser and dentistry unravels interesting possibilities. Both Photon and Photon Plus are developed using extensive research, state-of-the-art manufacturing and industry inputs.
No drill, no shots – safe and effective alternative to conventional dental tools.
The PHOTON PLUS 10 Watt immaculate dental diode laserwith 980nm diode versatility and complete portability has built-in tutorials and the best multi-lingual interface.
The large LCD touch screen for ease of navigation and a menu containing several programs that are both pre-set and customizable, makes the new Photon Plus dental diode laser unparalleled. It is perfect for tooth whitening or bleaching without any menace of cross infection.
PHOTON PLUS 10 Watt Dental Diode Laser: The Photon series of dental diode lasers is FDA approved.
Gentle and Comfortable
PHOTON PLUS 10 Watt dental diode laser is designed keeping the customers in mind, so these lasers are extremely gentle and comfortable. This is good for the dentists as well because pleased customers mean more goodwill and more business. Dental diode laser provide faster healing and no pain than conventional dental procedure.

Touch Interface and Wireless Foot Pedal
Great touch interface and wireless foot pedal are some advanced features of PHOTON PLUS Dental Diode Laser that make it one of the most wanted laser products in the market.

Powerful Applications


The Photon Plus Dental Diode Laser is a surgical dental device, intended to use for excision, incision, coagulation, removal of Fibroma, Granulation tissue, Soft Tissue crown lengthening, canker sores, bleaching, tooth decay, discolorations and oral soft tissue dental procedures. It is also used for Laser Pain Therapy managing TMJ pain and Sinus related pain as well for anesthesia of primary Teeth.
These are some features of our Unique Laser. Ours is the only Laser FDA approved to do Pain Therapy in USA
Call Us Today
If you want to improve your smile or if you have any questions regarding our cosmetic dental services, please call our office at 510-744-9744. We'll be happy to answer any questions, inquiries, or concerns you may have.